And the last new weekly feature, Photos of the Week! Photo features will be posted every Monday. Use
this form
to nominate posts (your own or other bloggers') for any of these features, and use
this other form
to give me permission, in advance, to use your photos in future features (with proper linkage/credit of course). This week's winners:
Acorn Squash stuffed with Autumn Fruit Compote
Jen ~
Beantown Baker
This photo appears in Jen's round-up of recipe ideas for Thanksgiving, but you can view the recipe for it in an older post here. I chose this photo because - as someone who does not really like squash - I actually want to eat this! The colors and textures are autumn-like, but with a sunny hint of warmer days.
Vegan Ginger Cookies
Erin Nichols ~
Erin Cooks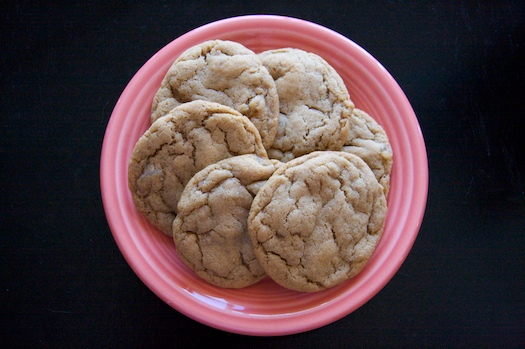 The bird's-eye view, black background, and careful organization of the cookies give this photo a clean, simple, appetizing look. The recipe, which includes crystallized
and
fresh ginger, sounds easy and tasty.
Peanut Butter Chocolate Tart
Kerstin Sinkevicius ~
Cake, Batter, and Bowl
Ultimate food porn. Just look at that swirling sea of chocolatey wonderfulness with generously sized peanut butter buoys floating along in it. I recently learned that Kerstin and I work in the same place, and knowing that this decadent dessert was somewhere near me is making me salivate!
Well, that's it for this week, for now. There are a couple other awesome photos I'd like to feature but haven't heard back yet regarding permission to re-post them. I'll add them if/when I can. My system for putting together these posts is still a bit clunky, but it'll be more streamlined once more bloggers have filled out the
permission form
:) Come back Wednesday for the next Recipes of the Week feature!